08/11/2019
Tonight I was co-hosting our annual Workplace Pride Awards Gala. This year our theme was "Stonewall Generation" so the fashion challenge was mixing 'black-tie and that 1960ies/1970ies periode style'. Luckily our event organiser had some fashion tips and the make-up artist of the day worked her miracles on me 🙂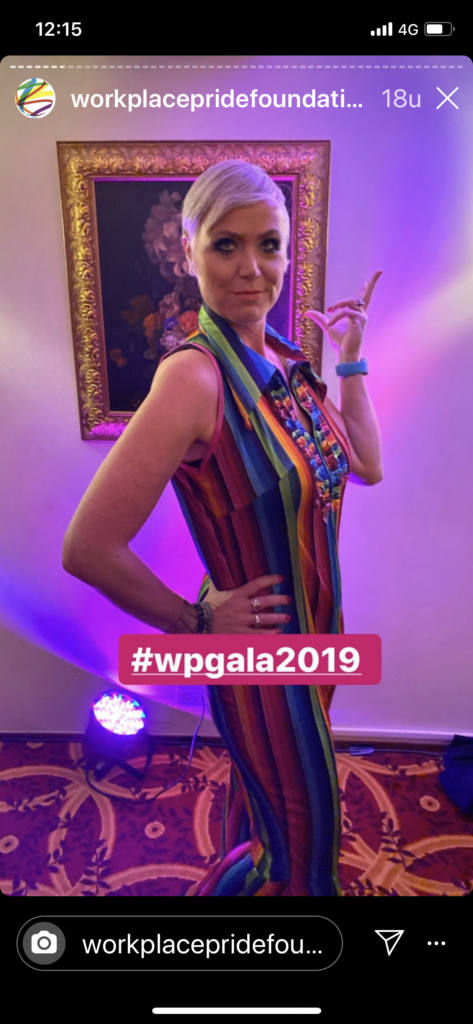 Leadership Award Winners & Global Benchmark Top Scorers Announced
Post Date: November 9, 2019
And The Winners Are…
On Friday, November 8th, nearly 230 members and friends gathered at the Koepelkerk in Amsterdam for the Workplace Pride 2019 Leadership Awards Gala. Hosted under the spectacular dome of the Kopelkerk, guests were treated to a variety of entertainment, fine dining and awards celebrations.
The annual Awards Gala singles out those individuals and organizations who have committed and continue to commit their time and effort to create workplaces where LGBTI people can be themselves. The highlight of the evening is the announcement of the top scorers of the Workplace Pride 2019 Global Benchmark annual survey. These represent the most LGBTI-friendly organizations in the world and their leadership is crucial to making a change in countries and cultures where it can be very difficult to be yourself at work. Full details of the 2019 Global Benchmark Results can be seen in the link below to the "New Horizons's Magazine: Global Benchmark Edition".

Best Outfit: Team Baker McKenzieThis year's theme of "Stonewall Generation" celebrated the music, culture and times that gave birth to the modern gay rights movement. In particular, the people of that era and from many different countries were true pioneers who, through their courage, set the tone for the incredible progress that has been made for LGBTI rights in the past 50 years.
As in previous years, the awards were divided over several categories with well-deserving winners:
Most Engaged Network
Booking.com

Most Effective Ally
Petra Zijp, NautaDutilh

Best Media Representation
ABN AMRO

Most Active Volunteer (2 winners)
Gina Walker (RELX / Elsevier)
Fraser Morel (Clifford Chance)
Global Benchmark Top Scorers
Ambassadors: Aegon – ING – NautaDutilh – RELX – Sodexo
Advocates: Accenture – Deloitte – Dow – IBM – SAP – Shell
Workplace Pride would like to congratulate all winners and to thank them, their fellow nominees, and all attending members and friends for help making this another unforgettable Leadership Awards Gala!
More info: http://workplacepride.org/